ODM has partnered with Productive Solutions (Data Integrity Control Systems) and combined their expertise to expand the Book-Trac™ family of products. Thus creating the ability for customizable automation controls and production reporting capabilities to all of our book-manufacturing clients.
Ideal for photo album pages, file folder products featuring an accordion type folder and many hand assembly items that require pressing.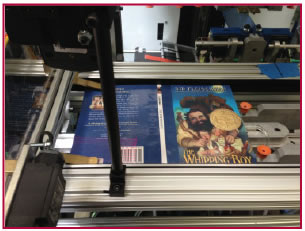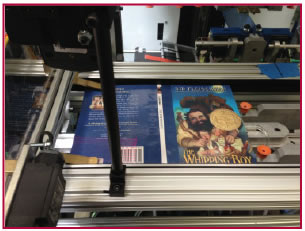 Book covers are stacked on the left conveyor belt and the ODM Book-Trac™ scanner prior to casing-in process reads ID Barcode.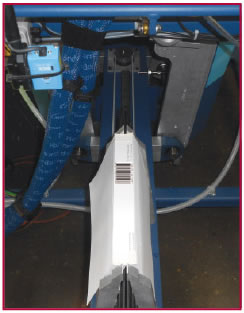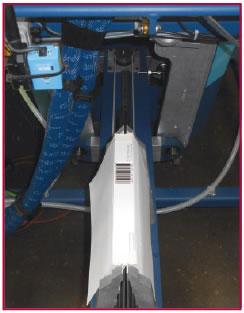 Operator just places the book block on the book carriage while the Super Sticker™ is in the home position. Book-Trac™ scanner reads the ID Barcode.
The addition of the ODM Book-Trac™ on the Super Sticker™ is the first in a series of future options aimed at improving production profits and integrity.
We accomplish this in two ways. First we automate the cover spine adjustment with the ODM Super Sticker™ Auto-Sizing Option. This in-line reading system allows you to group similar book layout sizes (all 8×8's or 6×9's for example) into one production session. By reading the Book ID Barcode, we are able to instruct the Super Sticker™ to automatically adjust for the next book's spine thickness. This all occurs before the book block carriage has been repositioned, thereby increasing throughput.
Secondly, we match the cover to the manually loaded book block. If they match, we let the process continue. If they do not match, we inhibit the Super Sticker™ from being able to proceed, and visually warn the operator of the mismatch.
The marriage of capabilities delivers near real-time reporting directly from your shop floor. Each book (Green Good Cover or Red Bad Cover) is recorded, and time stamped in an SQL type format table. Since we stop the process before the book is bound, this virtually eliminates scrap and rework, thereby increasing production throughput as well.