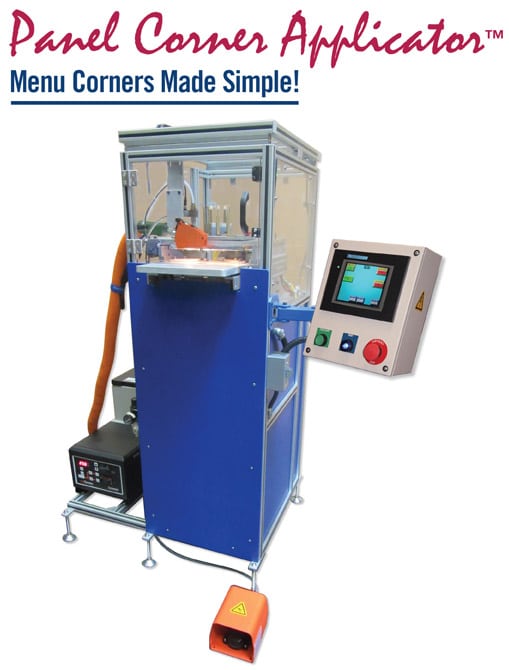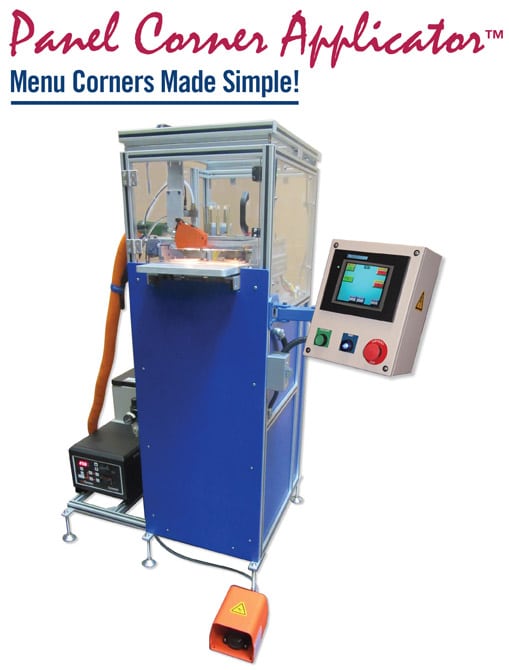 SPECIFICATIONS & TECHNICAL DATA:
ODM PANEL
CORNER APPLICATOR™
STANDARD EQUIPMENT for
PANEL CORNER APPLICATOR™ MACHINE:
Maximum Panel Size:
Minimum Panel Size:
Output (per hour):
Floor Space:
Net Weight:
Power Required:
8.5" x 14"
4.25" x 11"
up to 180 panels
48" x 96"
500 lbs.
2 - 115 Volt, Single Phase
15 Amps, Air 100 PSI
• Easy-to-operate LCD touch screen color control panel
• Corners accurately aligned prior to hot melt
• Dynatec hot melt attachment applies a precise amount of adhesive glue in each menu corner
• Foot pedal allows for efficient operation
• Adjustable score pressure
• Minimal make ready

Download PDF (English)
Machine Affixed Panel Corners Accurately Aligned Every Time!
ODM Panel Corner Applicator™ is a semi-automatic machine designed to apply accurately aligned corners to menu panel inserts. No more carpal tunnel claims. Speed up production with this once hand process.
ODM Corner Panel Applicator™ can apply 4 corners per 20 seconds; that's up to 180 panels per hour.
STANDARD FEATURES:
• Easy-to-operate LCD touch screen control panel
• Dynatec hot-melt supply unit provides exceptional value that's designed for precision glue application.
• Consistent symmetrical corners applied every time.
• Adjustable score pressure