A White Paper
How Digital Hardcover Bookbinding
Can Lead to New Business
By Denis Wilson, Editor-in-chief of Book Business and Publishing Executive
Digital printing has come a long way. Though early applications were often crude and expertise sometimes lacking, digital printing took off in some niches where the technology and the market demands aligned, such as in photobooks and on-demand self-publishing. Today, a technology that initially gained a lot of traction among those outside the traditional printing industry has evolved to become another weapon in the commercial printing arsenal. As quality has improved and costs have decreased, digital printing is now finding wider applications, especially in the book-manufacturing sector.
As editor-in-chief, Denis analyzes and reports on the fundamental changes affecting the publishing industry and aims to serve content-driven businesses with practical and strategic insight. As a writer, Fast Company, Rolling Stone, Fortune, and The New York Times have published Denis' work.
"Hard-bound memories"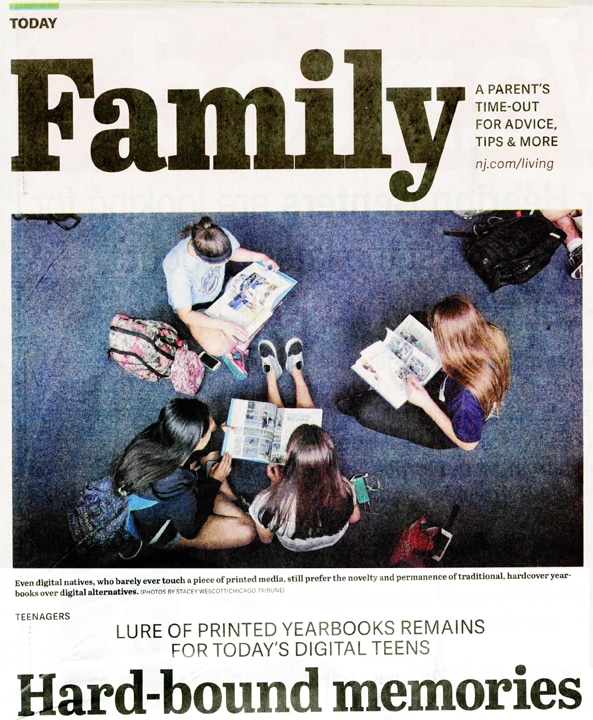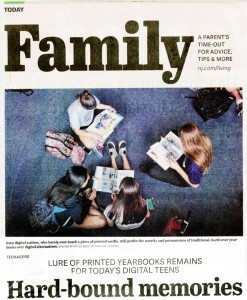 by Chicago Tribune's Karen Ann Cullotta, editor
Printed in the Star Ledger, June 15, 2015
"Our yearbook sales are as strong as they've ever been. Students tweet, text, and Snapchat, but see that as a very temporary thing. When it comes to reading, many kids I talk to overwhelmingly prefer a real book in paper, which is so different from all their media experiences."
Kevin Bond, New Trier High School yearbook adviser
View the pdf article, by clicking here
Making a Case for Digital Hardcover Binding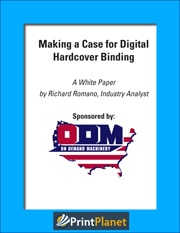 A White Paper
by Richard Romano, Industry Analyst
Abstract
Digital book printing has almost exclusively produced perfect-bound paperback books, but new markets are opening up for high-value, hardcover digital books, books that function as gifts, keepsakes, and mementos. Case binding has often been thought to be out of reach of most digital book printers, but today's digital case binding systems can bring high-quality and high-value print books in-house, without breaking the bank or your staff.
Richard Romano is a freelance writer and consultant for the graphic communications industry and frequently contributes feature articles, news stories, and special research reports to WhatTheyThink, the leading news and information portal for the graphic arts industry.
Romano is a former writer and senior analyst for The Industry Measure, for which he writes market research reports on various aspects of the graphic arts, printing, and publishing industries.
Romano is the co-editor, with his father Frank Romano, of The GATF Encyclopedia of Graphic Communications, a compendium of more than 10,000 graphic arts terms published in 1997 by the Graphic Arts Technical Foundation.
How to Hardcover Bind on Small Perfect Binders
By Werner Rebsamen, Professor Emeritus RIT


ODM Brochure – 'Photo Books Made Simple with ODM Case Binding System'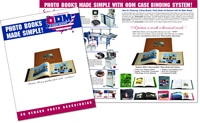 On Demand Machinery manufacturers a complete line of bookbinding equipment that enables you to produce on-demand case-bound hard cover photo books in-house. There's no need to purchase expensive pre-made covers. It's fast and easy to produce your own 'library-quality' hard cover photo books. The ODM bookbinding system is easily 'scalable' to fit your production requirements. The Super Sewer™, Casemaking System™, Sticker™, Smasher™ and Separator™ enable you to produce 'library-quality' photo books with end-sheets ranging in size from 4″x4″ to 12″x14″; up to 1/2″ thick.
Photo books are the next generation of photo albums for the digital imaging photo finishing industry.
ODM Pamphlet – 'A How-To Guide on Hard-Cover Bookbinding'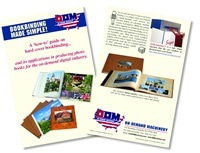 Learn exactly what's involved in the hard-cover bookbinding process – from Sewing and Casemaking to Casing-In and Building-In.
Videos
Cover Dewarper (Straightener)