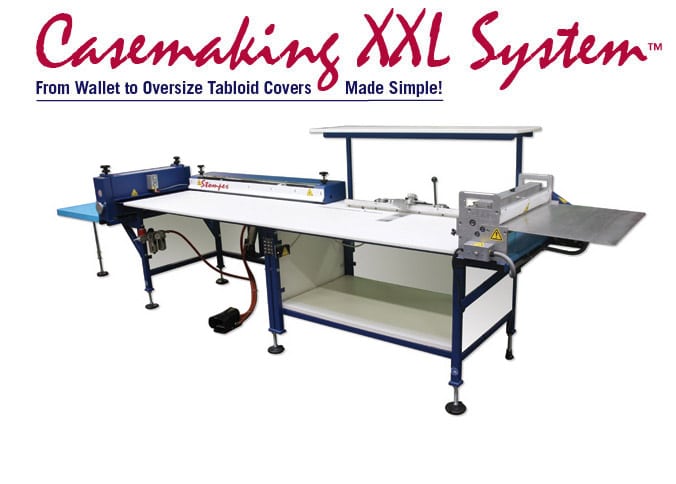 Casemaking XXL System™
The Next Generation Casemaking XXL System™ will enable you to produce wallet size (4" x 4") up to oversize tabloid (22.75" x 46.75") hard book covers using the same four processes as previously described in the Casemaking System: the Spreader, Slider, Stomper and Squeezer. Built in the USA, ODM machines work seamlessly with both the Sticker™ and Smasher™ XXL Series.
Cover material goes through the top side gluer.
The Spreader top side gluer comes equipped with an 24" glue roller. The cold PVA adhesive is placed in an easily removable glue reservoir. The thickness of adhesive is easily adjusted by a scraper blade. This unit is powered by a 115 volt, 60 cycle, 1/3 HP motor. The machine eliminates the need for the operator to flip over the glued cover material as with traditional bottom side gluers. This unit quickly disassembles enabling a fast and easy clean up.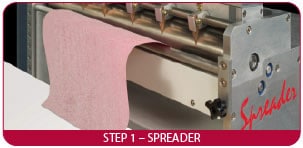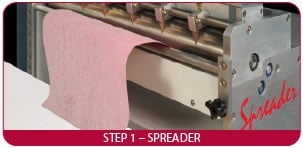 Spots and aligns hard cover boards in position with sliding table case gauge.
The Slider case gauge makes the positioning of board material a snap! The arms will open to a maximum of 4". The unit also comes equipped with an adjustable side guide and arm spacer kit for different joint gaps.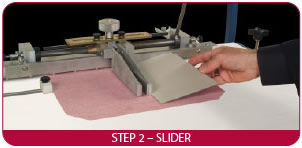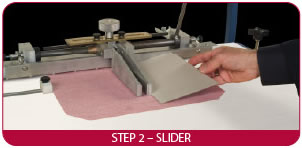 All four sides of the hard cover are turned in.
The Stomper air operated turning in machine is activated by depressing a foot switch. The climbing action of the turning in bar insures a tight corner wrap. Materials from leather to library buckram can easily be turned in with the Stomper. The maximum cover size is 48" width. Larger units can be custom made. The machine utilizes an external air source of 70 PSI.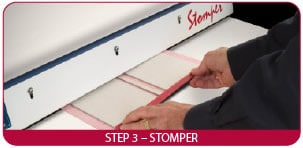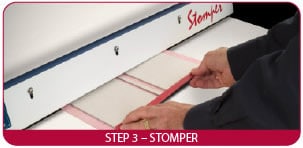 Finished hard cover goes through the rotary press.
The Squeezer rotary press will accept materials up to 24" in width by any length. The machine comes with a safety latch guard and delivery table. The squeezer rollers are adjustable for both pressure and gap opening.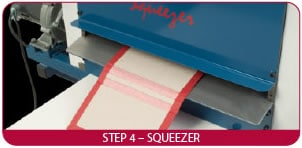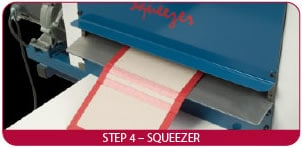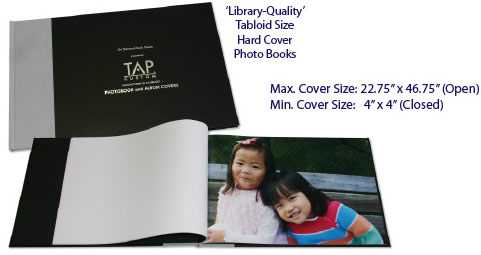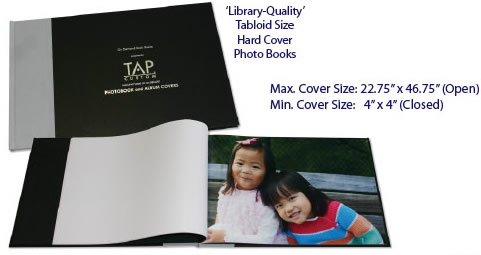 Ideal for hard cover bookbinding, photo books, menu covers, padded covers and turned edge loose-leaf binders.
During casemaking, the hard cover is produced that becomes the outer shell of the book. First start with a book cloth, or printed-paper. The operator sends the material through the topside gluer (Step 1 – Spreader), where a uniform coating of PVA cold adhesive is applied to the sheet. The freshly glued cover material is inserted into the sliding table case gauge (Step 2 – Slider) allowing the operator to accurately position all three cover boards that comprise the book cover. Once the cover boards are aligned, the operator inserts it into the air-operated turning in machine (Step 3 – Stomper) where all four sides of the cover material are turned in (wrapped around the edges of the cover boards). During the final step of casemaking, the finished cover is fed through the rotary squeeze press (Step 4 – Squeezer) where the cover is pressed to insure the cover material and boards are laminated.