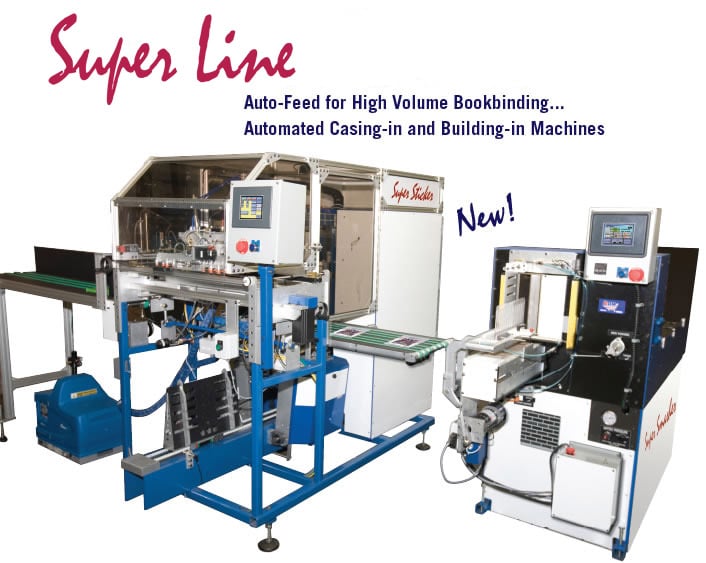 Automated Super Line for Super Sticker™ (Casing-in) and Super Smasher™ (Building-in) machines.
Increase your book production while lowering your labor costs. Produce 400-600 'library-quality' hard cover books per hour!
Auto-feed Super Line is now available for seamless assembly line hard cover book production from the Super Sticker™ to Super Smasher™. Cased-in hard cover books come off the Super Sticker™ conveyor belt and are automatically transferred into the Super Smasher™ for building-in.
Super Sticker™ – Automated, Casing-in Machine for Super Sticker™ specifications click here
Automated casing-in machine is designed for high volume, on demand binding operations. No special skills are required to operate this self-adjusting machine. Easy-to-use control panel allows the operator to format book size and control the position of blade height. Operator just places the sewn book block on the wing while the Super Sticker™ is in the home position. Book covers are placed on the left conveyor belt. Finished cased-in hard cover books are delivered on the right conveyor belt, then automatically fed onto the Super Line for building-in.
• Produce 400 to 600 books per hour.
• Glue stations are easily removed for a quick clean up.
• Optional Nordson extra paste attachment deposits additional hot melt adhesive in joint area.
Super Smasher™ – Automated, Building-in Machine for Super Smasher™ specifications click here
After the cased-in hard cover book enters the Super Line, it's automatically gripped, lifted and fed into the Super Smasher™ for the building-in process.
The Super Smasher™ is a self-adjusting, hydraulic building-in machine. It's easy to operate with a touch screen, LCD control panel that allows the operator to easily access machine features such as dwell time, servo homing, manually indexing, or troubleshooting a machine fault. The control panel includes a counter as well.
Cased-in books are automatically fed into one smashing station that houses three nipping stations where 1500 pounds of hydraulic pressure are applied to the joint area of each book, thus producing 'library-quality' hard cover books.
The three nippers provide dwell time in the joint area enabling the machine to run at speeds up to 18 books per minute. The rear in-line chute delivery can conveniently tie into most conveyors for increased workflow.
Auto-Feed Super Line Attachment – Step-by-Step from Super Sticker™ to Super Smasher™
Cased-in hard cover book comes off conveyor belt.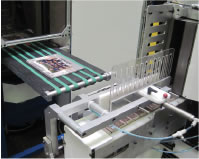 Hard cover book enters the gripping mechanism.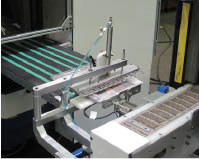 Book is aligned and ready for auto-feed transfer.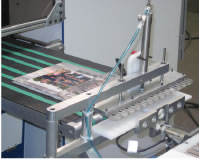 Book is lifted 90º upright onto conveyor belt.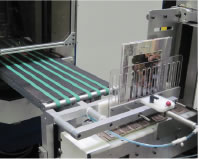 Electronic eye aligns book insuring a smooth transfer.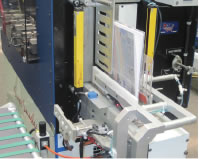 Book is loaded into Super Smasher for building-in.