On Demand Machinery Proudly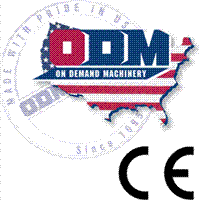 On Demand Machinery Proudly Displays the Official CE Mark and Made in the U.S.A. Label.
On Demand Machinery received approval to bear the CE mark on their Casemaking System™, Sticker™, Smasher™ and Super Sewer™ this past June 2007. The CE mark (officially CE marking) is a mandatory conformity mark on many products placed on the single market in the European Economic Area (EEA). By affixing the CE marking, On Demand Machinery and its authorized representatives, asserts that these specific ODM machines meet all the essential requirements of all applicable EU directives and that the applicable conformity assessment procedures have been applied. The CE marking is a mandatory European marking for certain product groups to indicate conformity with the essential health and safety requirements set out in European Directives.
For more information regarding On Demand Machinery and their authorized representatives, please contact us.