Photo Books Made Simple with
August 5, 2011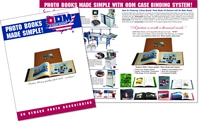 Photo Books Made Simple with ODM Case Binding System
On Demand Machinery manufacturers a complete line of bookbinding equipment that enables you to produce on-demand case-bound hard cover photo books in-house. There's no need to purchase expensive pre-made covers. It's fast and easy to produce your own 'library-quality' hard cover photo books. The ODM bookbinding system is easily 'scalable' to fit your production requirements. The Super Sewer™, Casemaking System™, Sticker™, Smasher™ and Separator™ enable you to produce 'library-quality' photo books with end-sheets ranging in size from 4″x4″ to 12″x14″; up to 1/2″ thick.
Photo books are the next generation of photo albums for the digital imaging photo finishing industry. Download your four-page brochure.
To view the full Photo Books Made Simple brochure, Click Here.
To view Photo Books Made Simple brochure in German, Click Here.